Production
Customers the world over rely on Skagit Seed for all aspects of professional seed crop management. Skagit Seed Services specializes in contract seed production of O.P. and Hybrid Beet seed, Hybrid Cabbage seed and Hybrid Spinach seed in Skagit Valley, Washington.
Our production services include:
Contracting with qualified seed growers.
Roguing for off-type and disease.
Ensuring crop isolation in accordance with industry standards.
Assist and supervise grower in all aspects of crop management.
Perform regular crop inspections.
Supervise harvest and delivery of seed to the processing facility.
Dry and condition crop to our customers' specifications.
Maintain all pertinent crop records.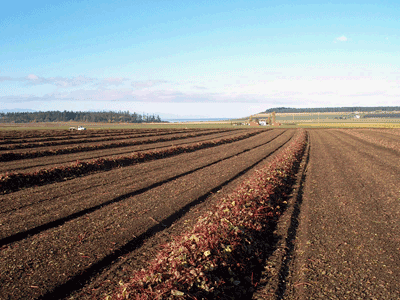 Pitting beet roots for overwintering.

Hybrid Beet Production. 8 rows of female plants alternate with 4 rows of male.